In Conversation With :
Tallulah Webb
Sad Club Records
Record Label Management

We sit down with Tallulah Webb, head of the cassette-only label Sad Club Records, to discuss the renaissance of cassette collecting and what it's like to run a DIY label alongside a full time job.


How did the idea to create a cassette-only label come about?


I was about 16 when I wanted to start a label, but I always saw it as an unattainable dream because of the cost of pressing vinyl. I hadn't really considered cassettes at first, I guess I didn't really know much about them. When I was about 18, I was working full time at Rough Trade and saw more and more people buy them, and it just clicked with me that I could release on cassette, and this would be my way of starting a label.

It was pretty difficult at first, being cassette only, because at that time I didn't know of any other cassette-only labels and people saw them as pretty gimmicky, and didn't take me or the label seriously at all. But, Sad Club has been going for more than 3 years now and it's just been getting bigger, and gaining a lot more respect.


Is running the label your full time job or do you work other jobs alongside to financially support you?


Oh god no, there's not much money in the cassette industry. I work at Rough Trade East full time, and I do other jobs on the side, for example, at the moment I'm editing a book, which is pretty fun. I don't think I could do Sad Club full time, obviously because of money, but also it wouldn't be good for my mind at all.


How do you think running a cassette-only label differs to running a label that predominantly release their music on vinyl?


It is completely different. It's a whole different vibe. For example, I'm on my 10th release so far and never made anyone sign a contract. I've kind of written the idea of money completely out of the equation because it's not about that at all, it's about releasing something that both I and the artist are proud of. A predominantly vinyl label has to be more serious, it's a massive scale up - there is so much more money involved, more copies made, more waiting time, and a larger risk. Whereas with Sad Club, the lower cost of manufacture allows more creative freedom, and puts a lot less pressure on the artists - it's just a bit more fun.


Cassette sales are on the increase, why do you think people are returning to cassette format?


I think there are many reasons that people are returning to cassette format, but mainly, I think that it is more about the part they play within the current music scene more than their traits. When most people think of people buying cassettes, they think of 60 year old men, the ones who lived through home-taping, making mixtapes at home and all that. That's not the new cassette crowd at all. Generally those people who lived through it the first time just laugh at the comeback and call it gimmick-y. That also makes sense, cassettes played a certain role in their time which we certainly don't need now. They've developed now, and play a different role within the scene. But, luckily it's not these old men who dominate youth culture…


I know that the increase in sales is due to the massive amount of mainstream artists releasing their music on cassette, like Ariana Grande etc. I see the spikes in cassette sales within the mainstream market and the DIY scene as quite separate issues. The increase in the mainstream scene I think is due to the consumer, mainly buying cassettes over CDs/Vinyl because it is cheaper and more fun, pretty much just following a craze. Major labels are able to pay for the production of vinyl, but make cassettes for, let's say, the younger crowd, because they are cheap and kind of 'trendy' I guess. These spikes in cassette sales in the mainstream market are feeding into those and helping out the DIY market as well.

It plays a completely different role within the DIY scene, acting as the only viable way for a lot of bands starting out to release their music physically. Cassettes play a role in supporting these artists without the support of a major label; allowing them to release their music physically and spread their music, saving time with manufacture and relatively low cost, allowing them to receive a source of income and support.


You mentioned that cassette is a more economically viable format than vinyl - from production and sale costs, manufacturing time, and turnover. Do you think the fact that we live in a fast paced world and an economically unstable time plays a part in the resurgence of the cassette format?


Yeah, I think this is exactly it. Well, I think both the vinyl and the cassette resurgence are due to people reacting against a fast paced world, but cassette more-so. We are so used to listening to playlists and skipping a song 10 seconds in if you don't like the intro. Cassettes act as a breath of fresh air from this. It is pretty difficult to change songs on a vinyl, but with cassette it is even more difficult. So, you're kind of left to listen to the whole album, which is a pretty rare feat these days. Also, the lifespan of cassettes, I've thought, has always been quite appealing. Unlike digital, you can't listen to it again and again knowing that it will always be there and always the same. There is decay and a death, and you've really got to cherish every listen. In terms of money, I don't think it is to do with economic instability, but it is definitely to do with costs of production and distribution of wealth within the music industry.


Which were your favourite independent labels growing up? What about them do you admire?


I don't think I knew what a label was until I was about 13, but I remember massively looking up to Wichita Recordings when I was younger, (and I still do now). I didn't really know what labels did, but when I started building my record collection I noticed the 'Wichita' label on the spine of most of my favourite records, and that must've got me interested. What drew me in was their incredible roster, and the strength of it. They have released so many incredible bands: Best Coast, The Cribs, Waxahatchee, First Aid Kit, Los Campesinos… it goes on… When I was younger I knew absolutely nothing about the label at all, apart from the bands that they worked with. When I had just finished school, I got an internship with them, and worked in their office for about 6 months. What surprised me the most about them was how few of them there are doing such a fantastic and organised job. Working there really motivated me to start Sad Club, teaching me about the different aspects of a label, from booking tours to organising releases, which stood me in great stead for starting SC.


What's the hardest part about running the label?


I think most people at first might think it is the money and the workload, but I don't mind that; there is always a way around both of those factors. I think the hardest thing for me is both finding the motivation and managing the amount of pressure I put on myself. It is so inconsistent, and that doesn't really do me too well.

Sometimes I find myself waking up at 3am and sending emails which I had forgotten to do the day before, because it is impossible to switch off. Other times, there's not much to do for weeks and I forget about Sad Club completely for a while. I really don't resent putting in however much work, because I do enjoy it all. I'm so lucky to be spending so much time doing what I love.


What is something you wish you had known or someone had told you before starting your own music label?


Honestly, I'm very glad to have started it so young, when I had a real lack of inhibitions, so I just went for it. One thing that I do wish, was that I sorted out branding before I started it, because it is really important to maintain consistency. I also wish somebody had told me to keep everything. I am doing an archive type zine for Sad Club, and I tried to find material from a few years back, and there's nothing. I also do wish that someone had shown me was the mass of resources online, such as the Unsigned Guide and HypeMachine for blogs, when doing press.


Do you think there is a strong enough support network for small labels to survive?


Hmm, I think it's pretty tough. I know quite a few labels who have run for a few years and shut down because business it is just too slow and it just doesn't seem worth it. I have been quite lucky with Sad Club how it has caught off finally. I think with cassette labels, it is not really about the finances, just whether you want to persevere and have the time to put the work in. Recently, I've had a lot of support from the artists that I'm working with as they are just as passionate about the projects as I am, making it really fulfilling being a grassroots label.


What has been your proudest moment so far?


Oh, god. I've thought about this quite a lot, and every month it is something new. I think generally it is just the amount of people reaching out to me, asking me to either release their music, or giving positive comments. Two years back, following our first compilation 'The Music Will Save Us Vol. 1' released for Cassette Store Day, I put out a run of 50 t-shirts designed by Jay Daniel Wright which sold out within a week. That was pretty cool. Also, about a year ago I remember looking in my drawer where all the SC cassettes are and there were SO many which hadn't been sold, and now they're all pretty much sold out. I'm making a lot of progress now, and I'm so proud of it.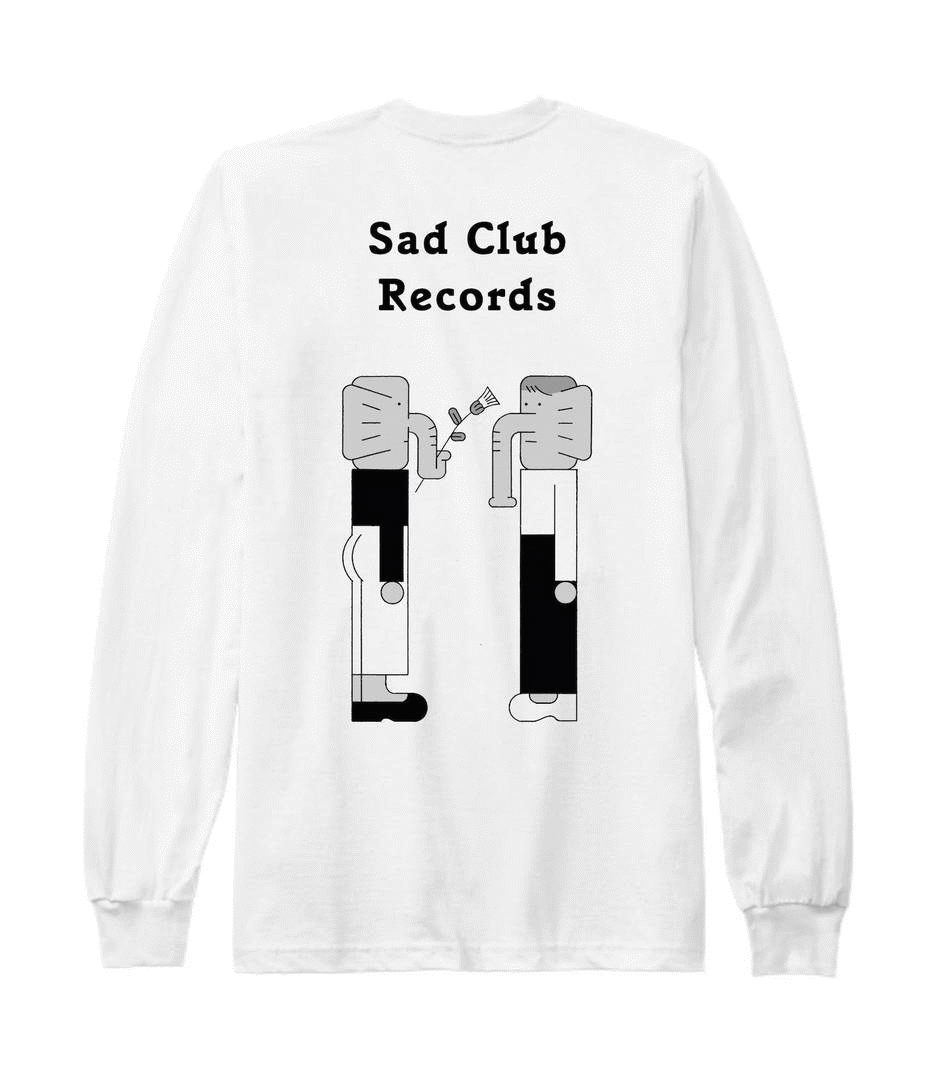 Finally, what exciting things can we look forward to from Sad Club Records in the near future?


We've also got a few massive releases which haven't been announced yet. There's about 7 artists penned down for 2020. Its gonna be a fantastic year!

We're also gonna start doing a radio show, and doing live sessions. Can't wait.

sadclubrecords.com/
@sadclubrecords
@tallulla4eva