People, Places & Programmes:
Small Green Shoots


In an industry where getting a foot in the door relies so heavily on connections, many young people, particularly from low income backgrounds, are often left without access to the many opportunities that exist in music. This leads to a chronic lack of diversity, even more acutely observed when you look to senior roles.

Small Green Shoots are a youth led charity looking to pave the way for the next generation of workers by equipping those who would otherwise be left behind with the practical and mental skills needed to build a career in music.

We had a chat with founder Founder & Director Natalie Wade about the support they offer and the various programmes they run.


Tell us a bit about Small Green Shoots and the work that you do.


We're a youth-led charity that supports young people from low income backgrounds in building careers in the music industry. We're really ambitious with it in that we don't talk about 'jobs' but long term careers. There's a big difference between the front of the creative industries and the behind-the-scenes of the creative industries. The back room is markedly undiverse, and by that I don't just mean black and white, I mean everything. Especially low income people because it's a sector of not what-you-know but who you know. So we set up Small Green Shoots as a way to help those people who're often left out.


What age are the young people you work with and can you tell us a bit about some of the barriers they commonly encounter when trying to get into work?

We predominantly work with 16-24 year olds and over 70% of our cohort are black, just because that's the way it's panned out working with low income people. A lot of our young people arrive with very little confidence in themselves, and that's something that we work on a lot. Confidence will get you the job, but resilience will build you a career.


How do you work with young people to equip them for work in the creative industries, music in particular?

What we do first-and-foremost is make sure that young people are paid fairly. Every young person that is involved with Small Green Shoots is paid. It's a great leveller because it instantly means they're financially able to take part, it gives them dignity and it also gives them a level of accountability.

We try to set high standards for our young people so that they're at a good level when it comes to them entering the workforce. My background is in the music industry so I know what the expectations are of workers. I also know the kind of world they're going into and they need to be prepared for that world. So we're very transparent about that, and we teach them how to navigate certain situations and how to build resilience, especially in an industry that can be daunting when you're just getting started.


What programmes do you offer?

We have a programme called the Short Sharp Shots. We run it three to four times a year and it's essentially an intensive three-day-a-week course to upskill 16-24 year olds who want to work in the creative industries. We bring 14 young people onto payroll which includes sorting them out with pension and National Insurance. We teach them chart metrics, we teach them how to use programmes like DISCO, Mailchimp, Photoshop and Adobe. We provide CV workshops and interview techniques. They even get Keynote training so they're equipped to do presentations. And each of those programmes is actually taught to them by representatives of those companies so that it's the real manufactory level training they get. Obviously they're not going to gain an in-depth knowledge of those programmes in such a short period, but the idea is to start them off with the basic tools so that they can go to an employer and say 'I have the basic skills to use these programmes'.

The proof is in the pudding because 12 out of 13 of our last participants have now gone into full time work.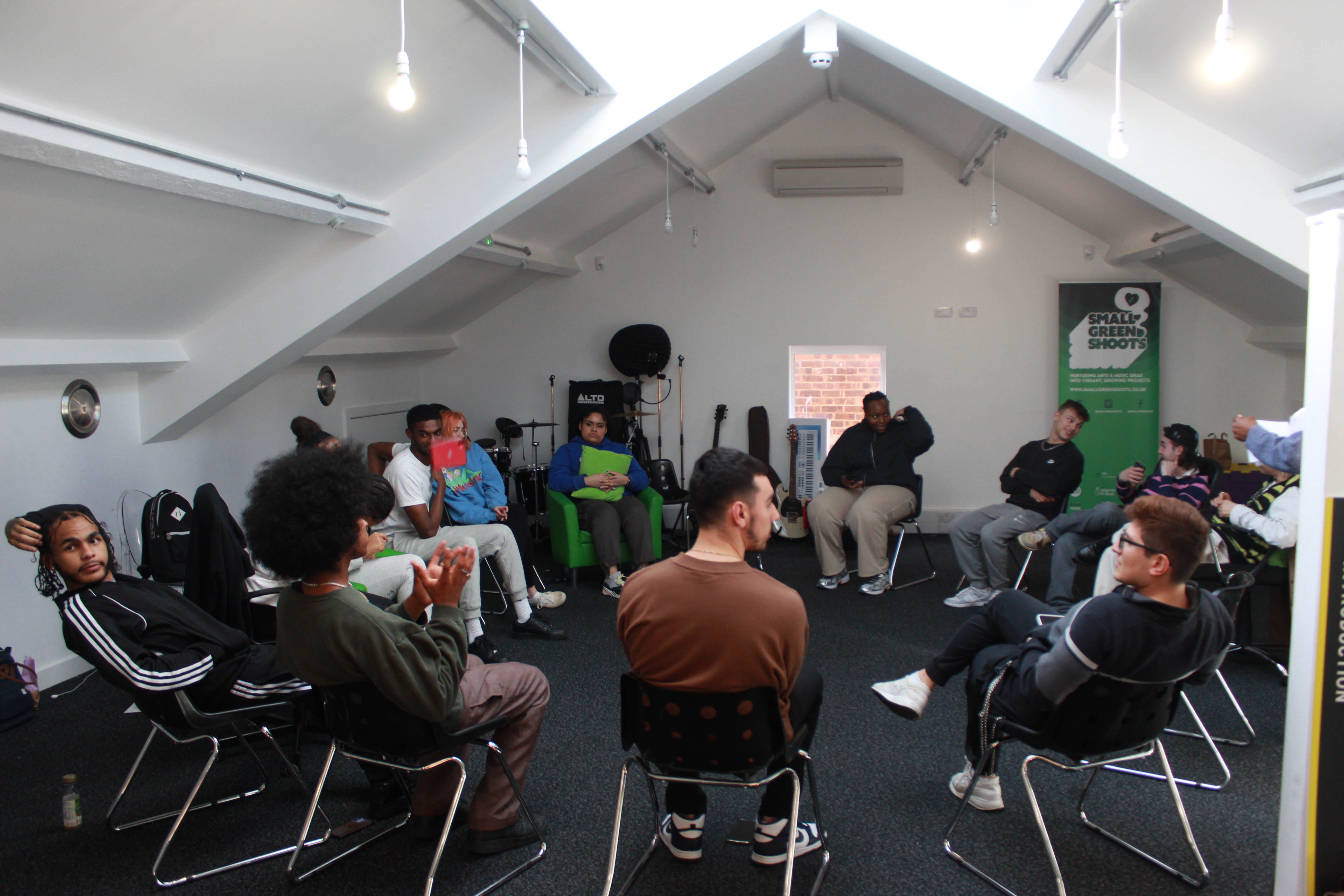 Do you keep in touch with the participants of the Short Sharp Shots programme or provide ongoing support?

We have the Young Shoots programme. Once the young people graduate from the Short Sharp Shots programme they'll have the opportunity to become a Young Shoot. The Young shoots actually run our company. We're a youth-led charity, so it means the young people are in charge of designing our programmes. They do accounting, they do fundraising and everything you see online is put there by them.

We also have the Family Album Group where we keep tabs with people that have been through our programmes. It's a Whatsapp chat where they ask each other for advice and share opportunities with each other. In the music industry, you're often learning on the job and sometimes that can make you feel very insecure. So the family album is great for people to just check in and openly talk about their progress or worries.


How do you connect with communities and people from lower income backgrounds who perhaps don't realise that these exciting career options are even possible for them?

Firstly, I think it takes one to know one. I am from that background, so it helps just having that natural intuition. Secondly, we've been doing this for a long time now, so we've built up a really good network of Youth Clubs and community centres that we work with. We do outreach to key schools and colleges in the lowest income wards. I speak to teachers at colleges who come to me when they're worried that a child might be about to drop out, and ask if we can help in any way. The Young Shoots actually lead in this outreach too. For example, they'll notice that we've never had an applicant from a certain area and will reach out to find them. A lot of it is also word-of-mouth from the young people too. They'll bring friends from their own circles.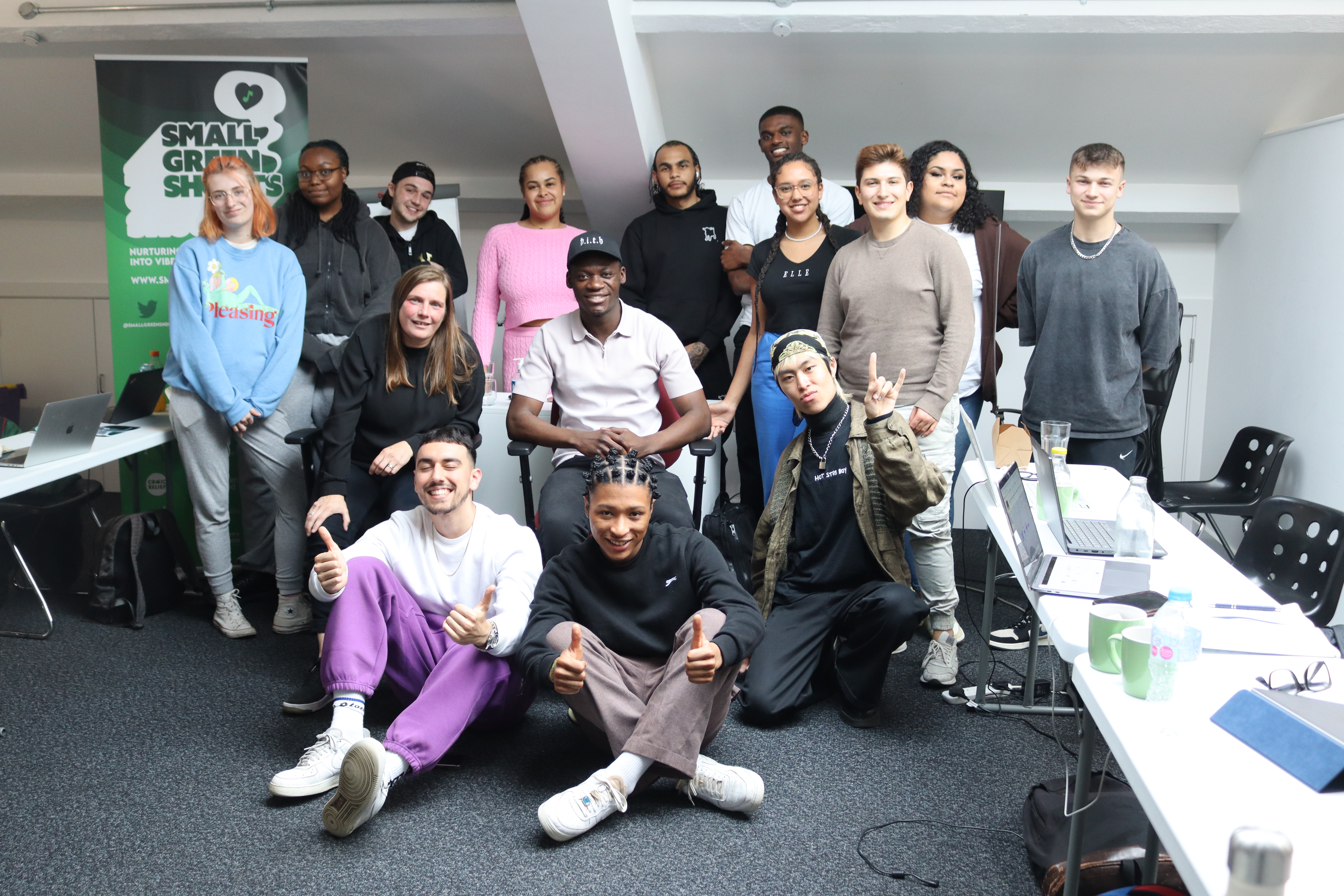 What changes have you seen in the sector since SGS started? Do you think it is getting more diverse? Are people backing up what they say with action?

2020 really felt like the year of change but the kids aren't stupid, they know that these things often happen as trends. One of our Young Shoots who's only eighteen said to me 'next year they'll be more worried about saving the whales from plastic'.

I was at a UK Music meeting and I was listening to companies talk about ethnicity objectives, income objectives, gender objectives. The whole industry is aware of these problems, and I don't know how long the enthusiasm will last but we're going to use this window of opportunity to pull up as many young people as we can. My goal is to get enough of these low income kids into jobs so that eventually they become the bosses and they will be running these companies properly.


To find out how to get involved with Small Green Shoots as a participant or funder head to the links below.

smallgreenshoots.co.uk/
@smallgreenshoots