In Conversation With :
Cecilia Dinwoodie
Cool Brother Magazine
Publishing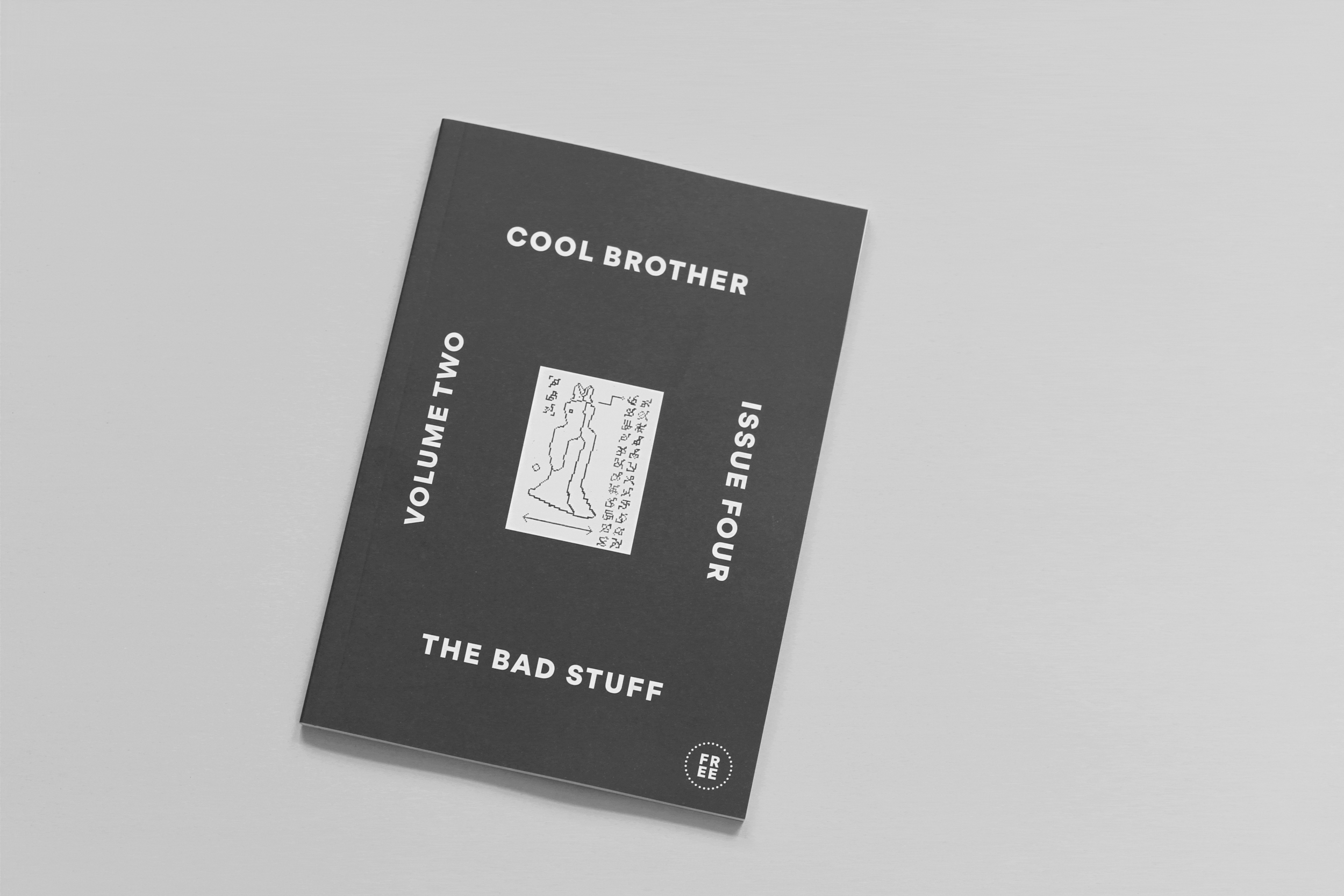 Cool Brother is a quarterly youth culture magazine created by Cecilia Dinwoodie. Since the release of issue Four, 'Woody' has been picked up by the likes of Celine, Adidas and Vice and has worked on large-scale marketing campaigns. We speak to her about how creating a free zine led to a career as a full-time freelancer, brand advisor and marketing manager.


When did you first start Cool Brother and can you tell me a bit about why and how the idea came about?


A lot of people don't know this, but I actually started it when I was at uni for my final project. We were told to create something physical and just as I'd reached my third year of uni I interned at NME Magazine and was suddenly like 'okay this is a really cool job and normal people actually do this'. I thought it was always a fantasy job that I couldn't ever achieve so then when I did that, I realised that instead of going into advertising, which was what I was studying at uni, I wanted to go into music journalism. So as my final project I decided to make the magazine. Back then it was literally just a music magazine - there wasn't any art, or photography. Then I left it and got some work at other magazines - I wrote for Hero and FOXES magazine and then got offered some work at Kerrang! And NME. Then at the end of 2017 I stopped all my freelance work and decided to really go for Cool Brother, redesigning everything and just fully go for it. We decided to put out the first issue in May last year and from then on I've kept going with it.


Which university did you go to?


I went to LCC (London College of Communication) in Elephant and Castle. They specialise in media type jobs like journalism and graphic design.


How well do you think university prepared you for a job in the creative industries?


I think in a way it really prepared me, because my course was all about collaboration. It was all, what you put into your work is what you get out of it. We did a lot of group work where we had to start our own advertising agencies and that sort of thing, which was really nice. The focus was very much on learning how to work with people with different skill sets, tastes and styles, and coming together with ideas – which is exactly what I do now. I work with about fifty people per issue, somehow, and I have to arrange my own schedule and do a lot of planning alongside the creative stuff. Everything I do, I have to achieve myself. There's no one looking over my shoulder or pushing me so in a way it did prepare me for that.


Is running Cool Brother your full time job or do you do other work to support yourself?


I was originally working on Cool Brother full-time – but now I do the marketing for Vice venues Sebright Arms and The Old Blue Last, and I do the occasional bit of agency work at TCO London with brands like Adidas. Cool Brother is now a little bit of a part-time thing, but Jan we will do another issue and pick things back up again!


It must have been pretty tough to get that balance between doing the work that you enjoy and want to be doing, and the work that you have to do to be financially stable. How did you manage that?


There wasn't a balance! I also had to stop working for other magazines around this time because when I do a feature I think it's really important to do lots of research and so I'll invest a lot of time in each piece that I do. And obviously transcribing and editing takes a lot of time anyway, so the way that I approach work journalistically is so time consuming that I had to cut back on the work I was doing for other people in order to maintain the quality I wanted.


There seems to be loads of great zines at the moment - So Young having started a few years back, See You Mate, Hate Zine, Saxon Zine, and Funhouse Magazine to name a few. Why do you think there seems to be a resurgence in physical magazines?


I guess it's all about wanting something that's tangible. You can get a lot out of online content and it's really great because there's a lot of in-depth articles, but when you have something in print, unless you make an effort to throw it away you'll always have it. You have to look after physical objects to some degree – particularly zines, as they're so delicate – which is something that's quite beautiful. There's a knowledge that a certain amount of love and care has gone into making the thing by someone. You don't get that sense with online tabs so much.



Do you think a lack of financial stability has contributed to more people starting something themselves? Feeling like there isn't stability in a 'normal' job anymore so you may as well do something that you enjoy?


Yeah, I think so - there was definitely a moment where I thought "right, well I'm just going to go for Cool Brother and try do it full time and make it happen, because it's now or never". I think that as you get older it's harder to take those risks so now is the time to take them, just because - why not? It's really scary, but if there's something you want to try then you should just go for it. What ifs are the worst. And if you fail, who cares? You spent x amount of time chasing a passion, having fun, getting creative, learning new things, working with interesting people. Really, those experiences should be commonplace – but sadly, they're often lost and rare.


What are some other magazines that have inspired Cool Brother?


I really like Loose Zine. They're completely photography based and have a 'loose' theme for each issue. I really like what they do, their work ethic and how they approach things – the people that run it are photographers, but there's no competition between them or the people they work with, they just want to create a platform for other people, and that's a place where I come from too. I don't think there's ever any need to compete when it comes to creativity. I also like Alfie Kungu who's a painter, he hasn't necessarily inspired Cool Brother, but I just really like his work.


Why did you decide to make Cool Brother free and do you receive any funding or financial help?


For the first issue I received funding from the Print Future Awards which I applied for and I really recommend them to anyone who's going into print. They gave me something like £1500 which is a lot when you're starting out. For the first issue I wasn't actually expecting to break even but the reason I went free is because it's so much easier. Even though it was a scary feeling that if I did it free I might not make any money straight away, it was a leap I wanted to take. I also couldn't see it working any other way unless I got an accounts/stockists person involved.

When I did the first issue of Cool Brother I stocked it at places like Rough Trade and Magma, and it was really difficult chasing invoices and arranging for the magazine to be stocked. If it wasn't free then some places could say "okay we'll take five issues" which is really long-winded and I wanted to print loads of copies - for the first issue I printed 2500 copies and now we're doing 5000 copies per issue and I knew that if I was selling them I wouldn't be able to do those kind of numbers. I realised that from a commercial point of view the money is in advertising, and even though I don't really agree with advertising, I knew it would be the only way to make my creative dream become a reality and be something successful. After a while, if you're not making any money and putting so much effort into it, it does feel a bit defeating. It's good to feel appreciated and get something back.


What's the biggest financial obstacle to creating a zine?


Probably having time! I don't have much time to email potential advertisers whereas a lot of magazines have marketing managers who will be constantly contacting people to advertise in their magazine. I don't do that, and am actually very lazy with it because I'm not that financially driven. That's the biggest obstacle, which is my own fault!


How many people are involved in Cool Brother, how long does it take you to create each issue and do you do all the distribution yourself?


It's just me and Emma. Emma is the art director and I'm the creative director and editor. I work on Cool Brother full time and Emma is actually a Junior Designer at ASOS so she works on it in the evenings, and then about a month before we go to print we get together three times a week and we put the designs together. She's definitely the one who makes it look great! Each issue takes about two months to make. We do all the distribution ourselves, though I don't have a car now and I've lost the trolley I had! (Who even manages to lose a trolley, by the way!) It's 5000 copies in the space of two days and it's back-breaking but it's very rewarding. It's actually one of my favourite parts of the whole process - when me and Emma go out in the morning in really high spirits, going round all these places, and everyone always remembers us. People give us free coffee and pizza, and it's so nice to meet people one-on-one and hear them say "I loved the last issue, the zines went really quick here." Often you don't hear those things other than from your mates so it's really rewarding.



What has been your proudest moment so far?


My proudest moment was probably when Celine did the advertising. I went to Bella Freud's SS19 press day at the old Television Centre in White City. I was walking down some stairs when her publicist came running up to me like "Are you Woody?" I was so confused! She used to be head of press at Saint Laurent, so she worked closely with Hedi Slimane, who is now the head designer at Celine. She gave him a copy of Cool Brother – and after that, he personally requested for Celine to advertise in Cool Brother, apparently. I remember going to his photography exhibition when I was sixteen when he'd done an exhibition with all these musicians - Pete Doherty (who I was obsessed with at the time – he's actually the reason I got into music), Amy Winehouse, Miles Kane - and I thought it was the coolest thing ever. I remember sitting there, staring at his photos in absolute ablazed amazement. So to know that he found a copy of Cool Brother and that it resonated with him is amazing.


What can we expect to see from you in the near future?


I've had quite a bit of time off from printing anything – instead, we've been focussing on events, freelance work and side projects. However, Issue Five will be out this forthcoming January, and we've got a Great Escape First Fifty show at The Macbeth on 13th November, with Silverbacks, Avaera, Noisy and Sons of Raphael playing. Should be fun!

coolbrother.co.uk/
@coolbrotherzine