People, Places & Programmes:
Arts Council England





First set up in 1946, by Royal Charter, Arts Council England have a long-standing commitment to championing and developing art and culture across the country. Between 2018 and 2022 they have pledged a sizeable £1.45billion of public money into projects and faclities to help suplement work from our huge national institions right down to small independent organisations and people. A significant proportion of that will be invested into the music sector.

While this money is clearly welcome in a sector heavily affected by the age of austerity and the continuing COVID-19 pandemic, the process of applying for a grant, particuarly for music projects can seem daunting. Who can apply? How much can you apply for? What kind of project will be supported? We spoke with music Relationship Manager Adem Holness to unpick the answers to those types of questions, to talk about Arts Council England's approach to diversifying the distribution of its funding and the organisation's response to the current climate.


First of all, tell us a bit about yourself and what your role as Relationship Manager for music at Arts Council entails.


My area of expertise is around contemporary music and emerging artists. I spend some of my time looking after a portfolio of organisations that we regularly fund, which is a massive range of organisations from community organised right up to places like the National Theatre. I look after some of the music ones, keeping in touch with them and making sure they have the support that they need. Then I spend the rest of my time working with individual artists and creative people on a one-to-one basis to support them in accessing and applying for funding and helping them understand the process.

I came to this job in a bit of a higgledy-piggledy way. I trained as a musician, went to a performing arts school and then studied music at university. After that I did a range of things. I was in bands, put gigs on, taught as a singing teacher, and then I started working for a music education charity called Sound Connections and ran a programme for 16–25 year olds. It was then that I really got into the idea of supporting people who are at the start of their careers and from there I applied for the job at Arts Council. But my first introduction to the Arts Council was actually as an applicant where I successfully applied for £10k to put on some gigs.

I work at Arts Council part-time and also work at the Horniman Museum as their Music Curator.


What are the funding opportunities available to people and organisations in music?


Generally speaking we have a few different funds, but at the moment they've all been redirected to form an emergency response package for people affected by COVID-19.

Ordinarily, there are two main streams of funding. One is our portfolio of organisations that we fund over a four-year basis. Some examples of those are Jazz re:freshed and Tomorrow's Warriors who have been pioneers in what is now the face of new British Jazz, iluvlive who develop emerging artists and the Roundhouse. The other type of funding is our open programme called National Lottery Project Grants where individuals and organisations can apply for between £1k and £100k for a project. That's usually open all year round and you can apply at any time. We support everything from the creation of new music to putting gigs on to research development.

Between 2018–2022 we've pledged to invest £1.45billion of public money into arts and culture. That's not just in music but a whole range of art forms including theatre, visual arts, and dance. That money comes not just from the government, but also from the National Lottery. It's money that belongs to the people, so our role is to ensure that the public get to benefit from that.


Roundhouse


What proportion of Arts Council funds are directed towards music-related projects?

On average, we invest just over £100million into music in England every year, through both project grants and our national portfolio. Music organisations make up 22.6% of our national portfolio.

We try to keep a good balance across all of the art forms but it's difficult because it's dependent on the kind of applications we receive. This has never happened, but if for one year we didn't receive any music applications then we wouldn't support any music projects. Music is a massive art form and everything from opera and classical to reggae is umbrellaed under it, but the needs and the way people work in those genres is so different that they require different kinds of support.

Part of my role is focusing on genres and people that are underrepresented in the funds that we give out. I spend time cultivating relationships with people working in those genres to make sure that they receive proper funding. Last year, we invested £1.8million into grassroots music through a ring fenced fund, which I'm personally extremely proud of.


How is the Arts Council helping the Live Music sector during the coronavirus pandemic and in rebuilding the sector once things return to 'normal'?


Live music is the area I'm most passionate about and like I said, I'm really proud that prior to COVID-19 we were able to set up that ring fenced fund specifically for grassroots live music venues and promoters. Venues and promoters have always been able to apply to the Arts Council but we realised that there was a perception that we didn't want to fund that kind of stuff. We've now spent a lot of time developing relationships with those people and it was really successful and we've now funded some amazing venues and promoters.

This money has now been redirected into our emergency response package and anyone who has a track record of working within the arts and culture can apply for that funding too.


What are the main reasons venues and promoters have been applying for the Grassroots Venues Fund?

It's been a big mixture. The thing is that we fund projects, and we have to make sure those projects have an impact on the public. Getting some new lights for your venue isn't necessarily a project or going to directly benefit the public, but of course, new lighting in a venue is going to make the shows that you put on better and the public are going to have a better experience of that live music. So part of my job might be working with a venue that recognises that they need new lighting and figuring out how that lighting is going to benefit the public, and what else to put in and around that.

The Macbeth in Hoxton applied to us for some digital infrastructure so that they could broadcast some of their shows. They also got some new toilets and floors and money for paying bands. Church Of Sound, who are a promoter, applied to do some research to benefit their business as well as some money to buy a bit of equipment that they'd previously been renting. So it's a real mix of things really.


Church Of Sound. Photo by Max Phythian


In the past, Art's Council has had a bit of flack for being London-centric. Are there any initiatives in place to make sure the money gets distributed more evenly?


There's definitely initiatives that make sure everyone in England benefits from arts and culture. I work for the London area so I can't speak for the rest of the country in terms of numbers and what types of applications come in, but I do know that there is the equivalent of me in places across the country whose purpose is to develop arts and culture within those areas. I think the problem is that a lot of creative people, especially in music, don't realise that this is an opportunity for them, but once they get their head around the fact that it's not a loan and it is there to help them then they usually apply and come back again and again and then we can build up a relationship with them.


What tools does the Arts Council provide for people who are in need of funding but not confident in how to make the application?


We provide access support for people who face specific barriers in making an application or delivering a project. This can include things like paying for a support worker or BSL interpreter.

There's also loads of guidance on our website, and we always encourage people to reach out to us. We've got an incredible customer service team who know so much about the process and how it works and any really specialised questions that might be outside of their knowledge will get passed on to the relevant team in your area. For example, if you're a reggae artist in South East London who wants to do a project around sound system culture, then you'll get forwarded on to me, and I'll be able to recommend ideas and other people who might be interested in hearing about the project.


Arts Council's 2019 diversity report was described as "a disappointing picture" by the chair of Arts Council England after it revealed that POC make up only 11 percent of its portfolio organisations (compared to 16 percent in the UK working population).

How is the Arts Council working to make sure this changes in the coming years and what role does the Arts Council play in making the arts more diverse and accessible?

We have an initiative called the Creative Case For Diversity where we work with organisations to understand how they can better diversify their work forces and serve diverse audiences. That's something that we regularly do and part of our role in managing organisations is to look at what they're doing against criteria within the case of diversity.

For me personally, developing and diversifying arts and culture in England is the point of having an organisation like this one. Our role is to work with individual people and organisations to help make artistic projects that benefit the public happen. Public funding can empower creative people to fully realise and raise their ambitions. So in my role, being able to focus on the people & genres who have less resources is the reason I turn up to or login to work.

In my role as a Music Curator at the Horniman Museum, a big historic cultural organisation funded by Arts Council England, I put on gigs and music programmes that connect with the incredible culture on its doorstep so local people know it's a space for them. My goal is that black artists, audiences and creative people see the Horniman and its collections and spaces as a resource they can use for their music. Black live music matters and the role of publicly funded organisations should be to enable it to thrive.







Looking towards young people, are there any educational programmes that you fund that help people get work in the music industry?


As well as our portfolio organisations like the Roundhouse, Community Music, and Raw Material who are all amazing at supporting young people in music, we also separately work with Youth Music who are the biggest funders of music-making for children and young people in the UK. They work with real grassroots organisations to make sure all young people have the opportunity to engage in music making. Sound Connections who I previously worked for are actually funded by Youth Music and they support young people in exploring different avenues in music from those wanting to become musicians, to those looking at working in areas like events coordination or PR.


And finally, what are some of your favourite projects or campaigns you've been involved in?
Last year we had a panel at BBC Introducing Live. It was me, Nao and DemiMa. Nao is obviously very established but DemiMa is more of an emerging artist and both have been funded through project grants. Nao was funded to go on her first ever tour as support to Little Dragon, and during the course of the panel discussion we found out that DemiMa was actually at the Brixton Academy show, and she said that when she saw the scale of the production of the show she said "how is her [Nao] production so good when she's the support act?" and it was partly because we had funded it. And now DemiMa was actually sitting there having put out her first EP and been given an Arts Council grant too. It was a really special moment to see both of them together at completely different stages of their career having both come through Arts Council and thriving as incredible musicians.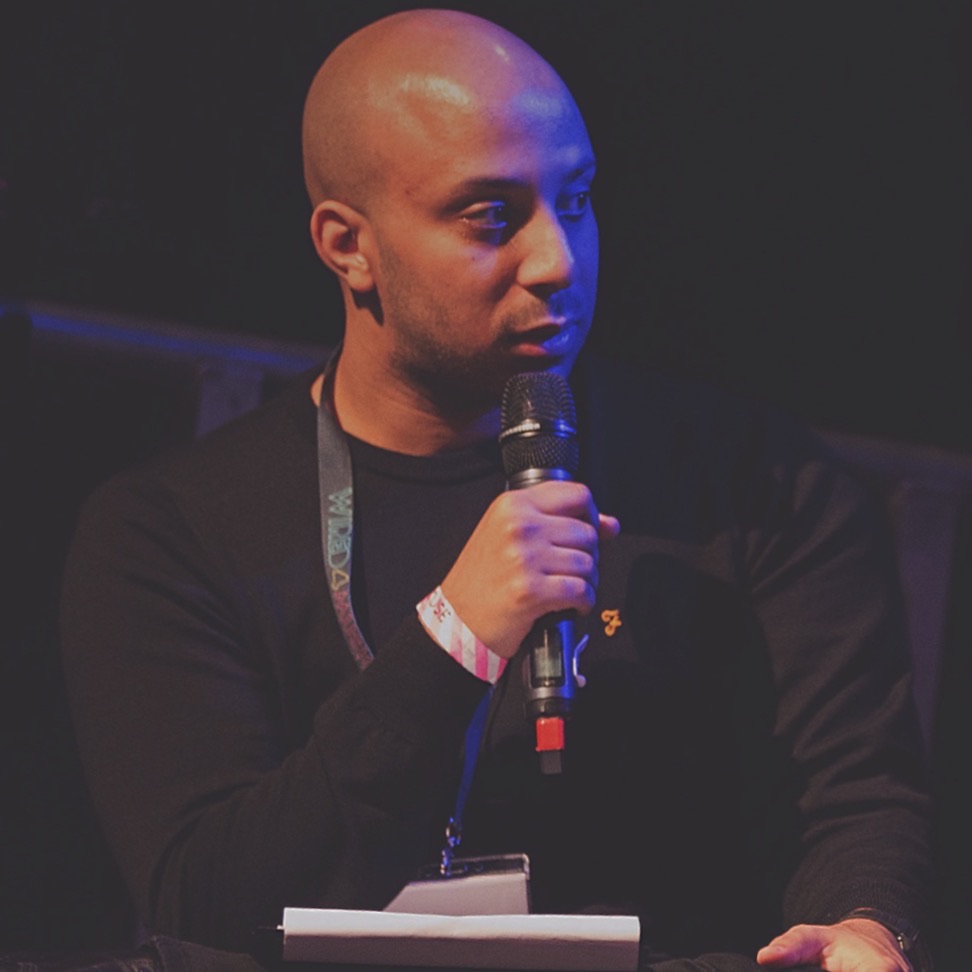 Adem Holeness
artscouncil.org.uk
@aceagrams